Bananas can uplift rural economy of Rusitu Valley, Manicaland's smallholder farmers' livelihoods
Kalunjeri W and N Mudada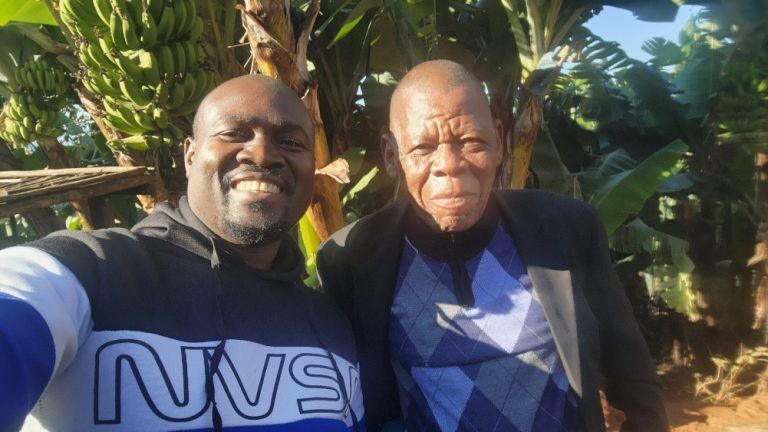 Rural farmers pose for a photo in front of their banana crop at one of the homesteads in Rusitu Valley in Chimanimani.
MANICALAND is one of the 10 provinces of Zimbabwe. It is nestled in the east of Zimbabwe, a stone throw away from the Republic of Mozambique. It is the country's second most populace region and arguably the coldest region in in country. Its provincial capital is Mutare and Manicaland's economy is strongly driven by agriculture, mining, manufacturing, industry and tourism. It's home to some of the top tourist attractions in the nation such as Mount Nyangani, Vumba Botanical gardens and Mutarazi Falls, to mention a few. Agriculture is one of Manicaland's major economic activities and currently products that are being exported with meaningful value are avocados, flowers, tea, macadamia, mangoes and bananas, among others.
The warm, humid climate and fertile soils of the Eastern Highlands are very suitable for banana farming and small-scale farmers in this area have fully taken advantage of this. For decades, families in areas such as Rusitu Valley, Chipinge and Buma Valley have made bananas a source of their livelihood. Every household has a banana field, avocado trees, pineapples, sweet potatoes, yams and an array of other crops. This all year round farming provides the community with a solid source of income, meaning that they rarely require food aid even in times of drought. According to The Food and Agriculture Organisation(FAO), Banana farming in Zimbabwe produces more profit than maize and tomatoes as far as the dollar to tonne ratios are concerned. Globally, it is ranked 4th in terms of gross value production following rice, wheat and maize. Therefore, it is a major contributor to the Zimbabwean economy.
Production of bananas at a commercial level is concentrated in the luscious and evergreen valleys of the Manicaland Province. Particularly in the South Eastern Lowveld, Buma Valley, Chipinge and Honde Valley. Honde Valley has emerged as the biggest producer of quality bananas from small-holder farmers and banana production sustains hundreds of small-scale farmers who have grown the crop since time immemorial. Manicaland's geographical location means harvests and profits are generally good. However, banana production was severely affected when Cyclone Idai hit in 2019. This devastating disaster caused mudslides that uprooted and washed away crops, pausing a serious threat to the community's income and livelihood. Diseases such as the Banana Fusarium Wilt caused by Fusatrium oxyporum cubence tropical race 4 also known as (FocTr4) and the Banana Bunchy Top Virus are also a huge threat to the production of a healthy crop if left unchecked. Farmers, therefore, have to constantly be on their feet, monitoring pests and disease trends, to ensure high and profitable yields. The reasons why the National Plant Protection Organization of Zimbabwe (the Plant Quarantine Services Institute), must continuously implement plant biosecurity measures on plant quarantine and phytosanitary matters in the country to guard against invasion of such dangerous pest threats.
The Food and Agriculture Organisation(FAO), recorded that Honde Valley is now home to over 5000 commercial banana farmers, applying sustainable farming methods that have been beneficial to improving quality of fruit. Monthly, yields grew from between 30 to 50 kilograms of bananas per individual farmer to over 1000 kilograms. Regionally, production has gone from 2000 tonnes in 2011 to 27000 tonnes presently. This growth contributes more than US$7,5Million to the rural economy each year. However, the major challenge facing farmers currently is the lack of formal markets to sell their produce. Some areas only have one buyer who determines the price without consultation. This results in farmers having to sell their fruit at dismal prices. The upgrading of the Rusitu to Kurwaisimba road by the second republic is a positive move as this will pave way for improved transportation of the fruits to lucrative markets in the major cities. Transport is a key to agriculture investment especially on value addition and marketing. Many a times, farmers have to resort to paying an arm and a leg to ensure that their bananas get to the market on time and this negatively impacts their profits which we foresee as history following the upgrade of the Kurwaisimba road by the second republic.
According to the United Nations COMTRADE, Zimbabwe's banana exports to South Africa in 2021 was to the tune of US$1.8 Million. The Covid 19 pandemic hindered a lot of export activity due to the lock down. The opening of the borders should be an advantage for export markets and trade.
Commercial banana exports remain a key to the country economy. The acceleration of rural development by the government is a major booster to the objectives of the millennium development goal number 1, no to poverty. With the efforts being made on value addition to the bananas produced in Manicaland by Nezox Brands, a company based in Mupangwa Honde Valley, who are scaling up banana flour production, the population leaving in poverty will Definelty be reduced by 2030. Green banana flour is low in sugar and it is rich in potassium, therefore recommended by health experts. Nezox Brands also dries bananas and packages them for sale as on the go snacks.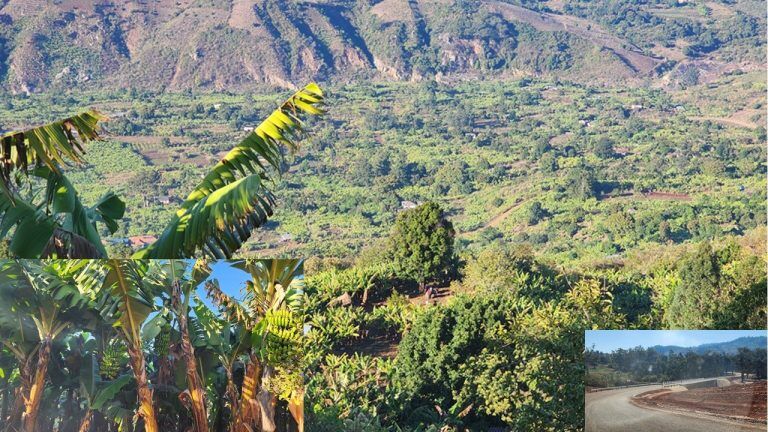 Smallholder banana crop in Rusitu Valley, every homesteads has this potential economic booster. [insert: refurbished road linking Rusitu Valley and Chimanimani]
In essence, banana farming in Manicaland has been and continues to be a huge success, but there is still much more to be done to improve the economic benefits from the crop. There's need for more output markets offering competitive prices, liquidity among smallholder farmers and affordable credit to finance seasonal production costs. If the above mentioned are availed to the banana farmers, it will go a long way in ensuring that farmers produce crop that meet international standards, increase both domestic and international markets and help the country at large to maintain its breadbasket status.
End of article